INCA TRAIL DAY 1
The total distance of the Inca Trail is approximately 40 kilometers. Our guided group had a different route than typical. The normal route takes the train from Cusco and departs at the KM 88 stop after Ollaytaytambo.
My guided tour group was fairly large-- 17 clients, but included two guides. Things were always manageable.
Our group was composed mostly of Americans, but here was the breakdown:
Burke, Ton & Scott 3 young professional guys from Arizona
Al and Kathy A father / daughter combination from Houston
Mozart, Roger, Daniel & Luis Antonio - 4 Brazilians, 3 from Curitiba and 1 from Sao Paolo
Steph & Leo - A couple of college students from England
Cang and Katherine - two US female college students attending school near Santiago, Chile
Messier X - A middle aged Belgium man who kept to himself and never said much
Juan , a Peruvian (Japanese ancestry) and his Israili girlfriend
Myself - 40ish single guy from Seattle
Instead of taking the train to KM 88, we took a minibus to our trailhead, and never used the train. We drove to Ollaytaytambo, which is described in my travel guide as "the end of the road. All travel from here is either on foot or by train." We were on a small road, which just kept going by house after house - really it was no larger than a driveway, with only room for one vehicle, and plenty of ruts and washouts.
We continued on this "road" for an additional 26 kilometers, until we stopped at a small village. This was our trainhead and at the railroad Kilometer 77 mark.
We got our packs and started walking. The first thing was to cross a small footbridge across the Urumbamba River. We followed the river valley (river on our right) for several more hours. We had lunch at a small village in a schoolyard. There must have been about 20 adobe homes in the vicinity.
The thing that first stuck me about the Inca Trail was that it was not really a "trail". It was more of a road, the only way in and out for hundreds of Peruvians living back in the countryside. These people use the trail with their pack animals to get in and out. And many of the residents also cater to the many tourists on the trail in addition to their normal agricultural work. They sell soda, beer, Inca Cola and fruit to the many hikers who come along.
We saw our first ruins at Llactapata (on my web map as Patallacta) at 2303 m. (7550 ft.above sea level) shortly after lunch.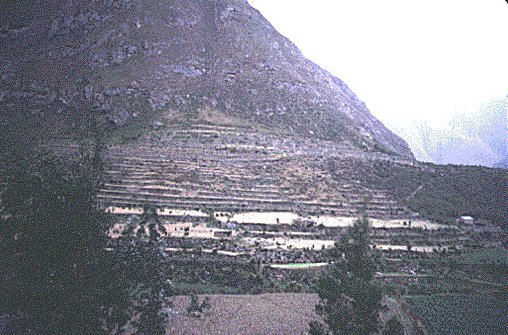 A storm had just moved in and it was windy and raining lightly. (Reminded me of our Seattle weather). The ruins, like all the other ruins are a mystery as to their function, but they seem to have been occupied by about 70 people. There are large agricultural terraces, and a round temple in the lower levels. We stayed on the trail and did not descend into the ruins themselves. This location is where our trail, starting at KM 77 meets the regular railroad-based trail starting at KM 88.
We reached our campsite at the small village of Wayllabamba about 3 pm, a small agricultural village, and the porters set up our tents. It took around four hours to cover the 9 km up to this spot. We had our afternoon tea, and had a few hours to relax before dinner at 6.
It got dark very early. I remember most people were back in their tents around 8pm.